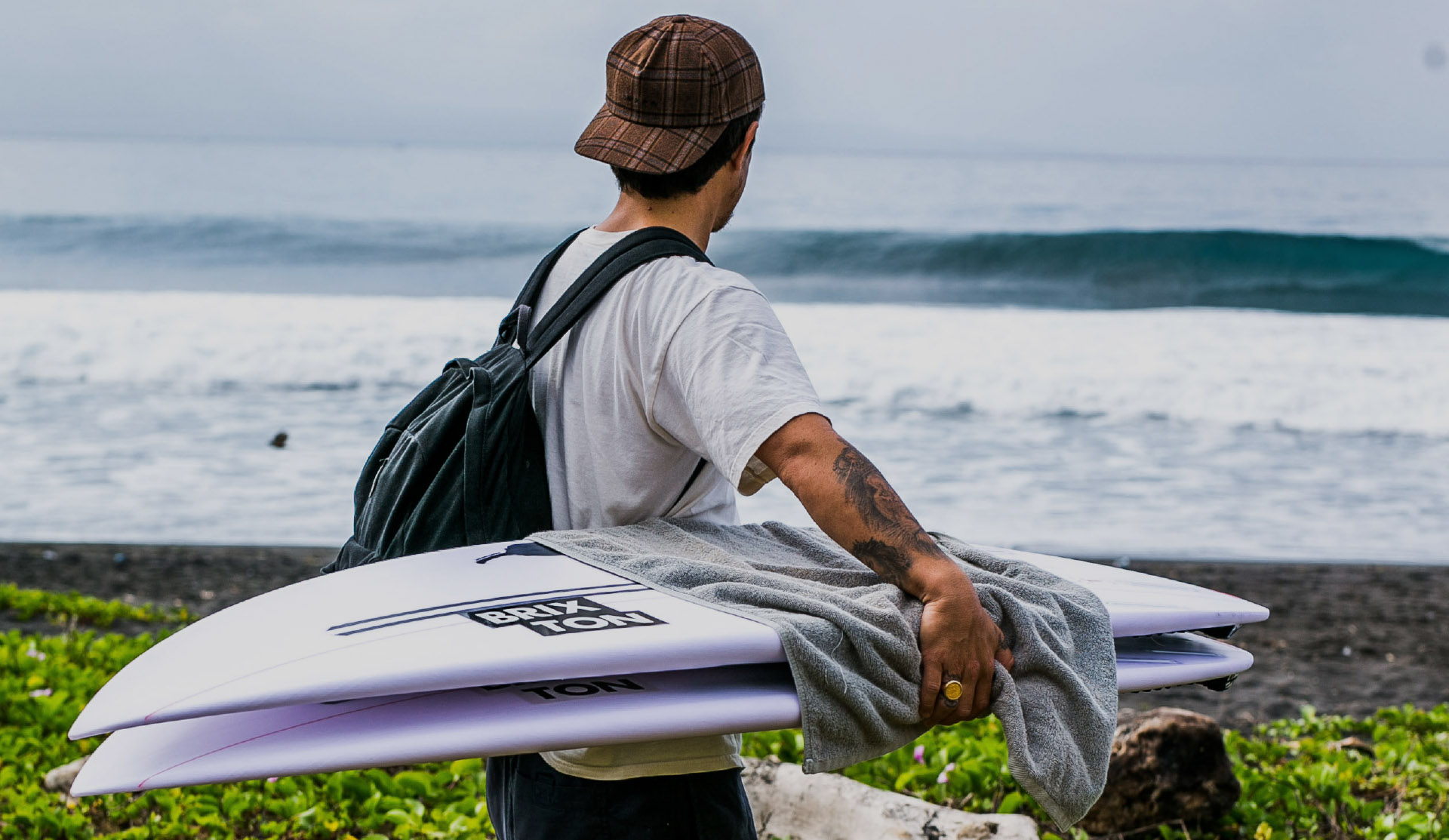 TWIN TECH
Twin Tech is Chilli's latest EPS/EPOXY construction. Twin Tech offers a performance orientated flex pattern that's designed to simulate a traditional stringer surfboard but with an Epoxy/EPS 'new board feeling' every surf. Most of the strength comes from the 'Twin Carbon' strategically running up the centre of the deck and bottom. This creates a strong flex pattern that accentuates speed and produces that 'pop and liveliness' but with an underlying feeling of predictability. Tried and tested with Chilli's team of all ages and sizes, this construction feels lightweight, balanced and perfect to ride. Twin Tech consists of a stringer-less 36 gram EPS core and Chilli's own designed 'Twin Carbon' fibre tape. Bottom: Single layer of 4oz fibreglass (featuring Chilli's signature line by Colan Australia), Twin Carbon tape plus individual FCS II plug patches. Deck: 1 x layer of 4oz fiberglass, 1 x layer of 220 gram biaxial cloth, Twin Carbon tape plus a V-Tail patch.
Deck
1 x 4oz Fibreglass
1 x 220g Biax Fibreglass
1 x Twin Tech Carbon strips

Blank
36g EPS Core

Bottom
1 x 4oz Fibreglass with 'Chilli Blackline' thread
1 x Twin Tech Carbon strips
FCS Plug Oval Patches
FCS II Fin Plugs
OUR RANGE
---
HOT KNIFE
The Chilli Hot Knife is the combination of two popular surfboard models (Peri Peri & Stepdown 2) resulting in what can only be described as a full-figured 'all rounder' shortboard. This particular model was tried and tested with one of Chilli's bigger built team riders, Jay Davies. "This board is super easy to ride and feels forgiving in all conditions".
VIEW MORE HERE
---
RAREST BIRD
Back in 2015 we designed the Rare Bird. It started out in the category of "small wave performance" but quickly appealed to an audience of surfers who rode it in small onshore summer slop through to 6 foot barrelling waves in Indonesia. The feedback was always, "This is the most versatile surfboard ever, it just works!" From here the Rarest Bird emerged... with more volume and foam, this versatile hybrid appeals to a wide range of surfers looking for a performance surfboard that does it all.
VIEW MORE HERE
---
MID-STRENGTH
James (Chilli) designed this surfboard over the summer of 2018/19 whilst he had a niggling knee injury and couldn't surf to his full ability on his standard shortboard. "I just wanted something that paddled easy, catches waves and surfed without too much effort", so the Mid Strength was created. Essentially, this is a performance mid-length that should be a consideration for anyone who can competently stand and navigate along a wave.
VIEW MORE HERE
RAREST BIRD
Buy Now
MID STRENGTH
Buy Now
HOT KNIFE
Buy Now
CUSTOM ORDER
FAQs
CAN I ORDER A CUSTOM TWIN TECH?
Yes, you can order any model in the current Chilli range in Twin Tech. You can get artwork, change dimensions, more or less fin plugs, a different tail or copy your favourite past Chilli. You can do so here (insert link to Custom Order)
IS TWIN TECH STRONGER THEN NORMAL PU?
It's designed to be stronger and more durable then a regular PU surfboard but they are not unbreakable. They can break if the boards gets in the wrong situation, which the ocean tends to do to all surfers at times, that's just surfing.
SHOULD I CHANGE MY DIMENSIONS WHEN ORDERING A TWIN TECH?
No, we suggest going with your standard favourable dims if you want to go down that path. Which most people do. These boards are a little bit more buoyant then PU but nothing too noticeable that you should change what you like.
Should you want a model like the Mid Strength for easy surfing then of course increase your volume and you will have a really easy time catching waves and a healthy wave count.
HOW SHOULD I LOOK AFTER MY TWIN TECH?
The main care for EPS/EPOXY construction surfboards is heat and sunlight minimization. Don't leave your board in direct sunlight, in hot cars or board covers in direct sunlight. Heat is the main cause if discolouration or damages. If you get an type of hole/crack small or big where water can come into contact with the EPS foam you must fix straight away. Make sure the repairer uses EPOXY resin.